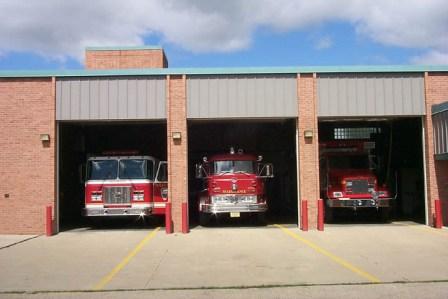 Proud to be a volunteer Fire Department. Founded in 1866, the Mazomanie Fire Department continues to carry on the tradition of volunteerism. The roster usually consists of between 25 and 30 personnel. Most are state-certified firefighters, and there are some support personnel. Support positions include clerical help and babysitters, who watch the younger children while their firefighter parents are on fire calls. The current roster of 31 active firefighters includes both men and women who are parents and grandparents, as well as young single people, from many different walks of life. Many of the firefighters also volunteer with the District One Emergency Medical Service, and some firefighters enjoy joint membership in other departments close to where they work or live outside of Mazomanie. The fire department is always looking for people who are interested in helping their community, especially anyone who is available for daytime calls.
Firefighting equipment in the Village. Firefighting apparatus include two engines, an aerial ladder truck, and a rescue squad/ support vehicle. Each of the two engines carries 1000 gallons of water, over 2000 feet of fire hose, and each is capable of pumping 1250 gallons of water per minute. The ladder truck has a 100 foot ladder in addition to many ground ladders, and also carries a variety of specialized equipment. The squad carries the extrication equipment, a variety of specialized tools, including rope and water rescue equipment. It has a large generator to provide light and power at a scene. The squad is also heated and air-conditioned, to provide a location for rehabilitation and recovery of firefighters at the scene.
Fire services. The Mazomanie Fire Department is an ISO Class 5 department and provides a full range of fire suppression, prevention and education services. The fire department shares its station at 133 Crescent Street with the District One Emergency Medical Service, the Mazomanie Police Department, and the Mazomanie Village Office. You can reach the fire department by dialing 911 for any emergency, or by calling the Village Office at 795-2100 or 767-2761 for administrative calls.
Interested in becoming a volunteer? Interested persons are invited to attend our meetings on either the first or third Monday of the month. The first Monday is reserved for our business meeting and the third Monday is used for drilling and training. The meetings begin at 6:30 at the Fire Station.
If interested in joining our Department, print and complete the Application for Membership and bring it with you to a meeting.
Application for Membership to Mazomanie Fire Department